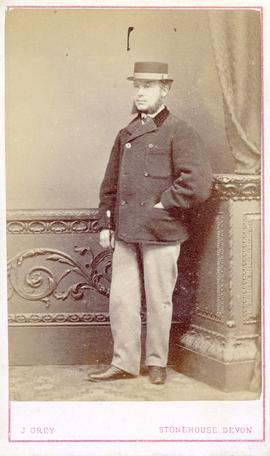 Mr Ralph Brecken Peake portrait
CA PEI SPCA PHOTO 0371
Unidad documental simple
1860 - 1879
The photograph is a full-length portrait of Ralph Brecken Peake. A handwritten note on the back of the photograph reads "R. B. Peake, an early member of the church." Research indicates that Ralph Peake (ca. 1845-1879) was the son of James Ellis Peake (1797-1860), who arrived in Charlottetown, Prince Edward Island, from Plymouth, England, in 1824 and established himself as a shipowner, shipbuilder, and merchant. James married Barbara Leila Alice Brecken in 1838, and they had at least six children: Elizabeth, Alice Brecken, James Jr., George, Ralph Brecken, and Fanny.
Due to his ill health, James and his family returned to Plymouth in 1856, and James died England in 1860. Ralph Peake returned to Prince Edward Island with his mother in 1866 and married Matilda Haviland. He was partner in Peake Bros. & Company until his death on 11 January 1879 at the age of 34.
PHOTO 0378 is a portrait of Matilda (Haviland) Peake.