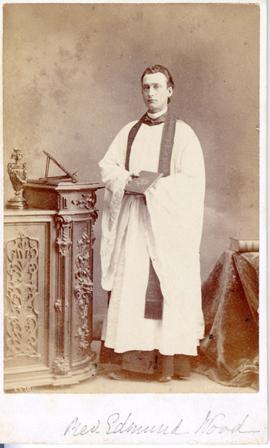 CA PEI SPCA PHOTO 0367
Item
1868 - 1880
The photograph is a full-length portrait of Reverend Edmund Wood. A handwritten note on the back reads "Reverend E. Wood, St. John the Evangelist, Montreal." "Rev. Edmund Wood" is also written on the front.
Research suggests that Father Edmund Wood (1830-1090) founded the Parish of St. John the Evangelist in Montreal in 1861. He introduced the principles of the Oxford Movement to St. John's and to the Diocese of Montreal. The parish was the first Anglican church in Canada to celebrate daily Mass and provide private Confession, and the first in Quebec to reserve the Blessed Sacrament. It is noted that St. John's was the first parish in the diocese (and one of the first in the country) not to rent pews, in keeping with the principle that the church is open to all.
PHOTO 0308 shows the interior of St. John the Evangelist Church in Montreal.