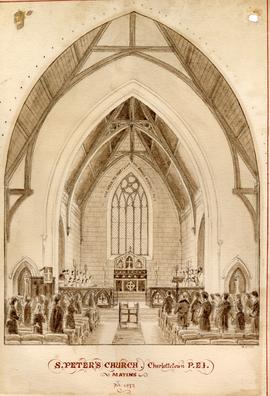 CA PEI SPCA PHOTO 0464
Item
1872
The sketch depicts parishioners and choir, Matins 1872.
The framed print hung in the chapter room for years and is signed R. Harris. A typed note was on the back of the sketch that states: " Presented by Charles E. Carman to the Chapter Room of St. Peter's Cathedral, Ch'town in loving memory of happy days spent in the Parish when his dear Friend George W Hodgson was Priest. Feast of All Saints, 1902. The original handwritten script remains with the frame.
Father Peter Harris adds the following items of note about the sketch: The text above the stained glass window and brick wall are no longer visible. as are the stars are shown on the ceiling. The rood screen (installed December 1873) is not present.