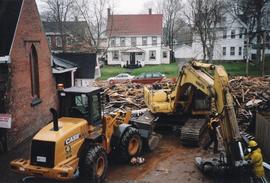 CA PEI SPCA PHOTO 0382 A B C D E F G H
Unidad documental compuesta
11 May 2004
The photographs show the demolition of the old Church Hall. The event was described by Father Peter Harris as follows: "watched by a group of parishioners, the machine with the wrecking ball and mechanical jaws performed the actual taking down of the old building. By 4 pm, the old Hall had been reduced to a pile of rubble. By October, the Hall was almost complete and usable." Only photos A B C have been scanned.