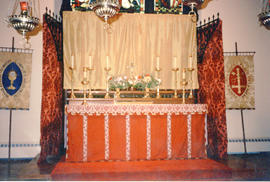 CA PEI SPCA PHOTOS 0270 A B C
File
July 25 1994
The photographs show the altar of St. Peter's Cathedral Church as it was decorated to commemorate Reverend Canon James Simpson, during the church's 125th anniversary.
Photograph [a] shows the altar decorated to look like it was when Reverend Canon James Simpson was the incumbent priest.
Photograph [b] shows Craig O'Brian, Reverend Canon Peter W. Harris, and Paul Kays.
Photograph [c] shows the altar decorated.